---
Please note: The kitecamp is not operated by us anymore. However, you can still book your accommodation there with us.
The kite operation itself is in a winter break from October to mid April. Please contact us before going to Masirah so we can ensure your lessons take place and you can rent gear. The camp is open, but courses and rental are only available when booked before!
Please contact us before booking your holiday!
From end of April we will start again into the summer season. Looking forward to seeing you!
---
Masira Island – the secret kiteboarding paradise
Flat water or wave spots, sand or pointbreak endless wind – everything reachable in only 20 minutes on Masirah Island. A unique "playground" for those not only looking for the perfect spot with perfect conditions.

Monsoon Season during Summer on Masirah Island ("Khareef") – that's what the insiders are looking for impatiently. The season kicks off in May/June and kiters as well as windsurfers are packing their gear to travel to this playground of various untouched spots. The Season lasts usually until end of September. 20 to 45 knots of wind day and night steady from south, huge flat lagoons on the west coast and the waves of the Indian Ocean on the east coast make this island a kitesurfers' heaven. Besides making your legs cry for mercy, the monsoon keeps the temperatures low and even if the mainland of Oman heats up to 55 degrees that time of the year in some areas, Masirah offers pleasant temperatures between 24 and 38 degrees in summer.
Masirah Island is known for its short high wind season of 4 months in summer, but it is an all year destination for those who are looking for a true and authentic destination with an arabic culture, unspoiled spots blessed with all year sun. During the rest of the year conditions are pleasant for medium and big sized kites and the wind will come from North or West (Wintermonsoon "Jamal").
Be sure to watch our recent videos and pictures!
Masirah Island – a jewel in the Arabian Ocean – is Oman 's largest island with 12,000 inhabitants, is located about 18 km from the mainland on the east coast of the Sultanate. Here you find the combination of perfect conditions in various spots on countless breathtaking beaches with flat water and waves. You will meet friendly, curious and helpful people who have kept their peaceful and traditional culture in this microcosmos – you will come as a tourist and you will leave the island as friend with the impression of being one of them.
Fish is the main business on the island. In the center of the town Ras Hilf, you can buy freshly caught fish at the souq or stroll through a small bazaar, haggle with the sellers and experience the traditional lifestyle.
---
Contents:
---
Getting to Masirah Island- Ferries to Masira from Shana
The ferry port "Shana" is reached in just 3,5 to 4  hours from Muscat (420 km). In the first moment, this sounds like some serious travel effort. But Masirah Island is definitely worth it as every surfer's heart finds its perfect spot! Probably more than just one…
After your holiday you could travel back along the coastline of Oman. This will take you a bit longer (around 6-7 hrs) but provides you an even more stunning travel experience.
Two types of ferries are operating between Shana (mainland) and Masira Island. The old ones (mainly blue and a bit rusty), which are private owned, sail irregularly between 6 am and 4 to 6 pm without guarantee or schedule. They go once the captain says they are full. Just roll on, payment has to be done cash on board.
Fee for the old ferry: around 10.-OMR per car per way (8.-OMR for a saloon car), passenger are free of charge. Pre booking is not possible.
The new ones are operated by National Ferry Company Oman. Ticket has to be purchased 20 min before the passage in the NFC office off the breakwater.
Office on the mainland: Container office left hand side BEFORE you drive onto the pier on the mainland. Office on the Island: Indicated office building opposite the pier on Masirah. Tickets for the new ferry are 10.-OMR per car plus 3.- OMR per passenger.
More info about pricing and the actual schedule you will find on the homepage of National Ferry Company Oman www.nfc.om.
Important: Tickets for the NFC-Ferries can only be paid by credit card – no cash acceptance.  Reservation is not required usually but in peak days such as public holidays or long weekends it is a must, if you want to avoid being stuck in a very unorganized queuing system.
Mobility on the Island
As for now the Island can't be reached by plane, so a rental car is more or less mandatory for your holiday. Having an own rental car is not only the cheapest way to travel to the island, it also provides the flexibility to explore all different spots on your own and creates an extra value for your holiday. Travelling in Oman is safe and easy, there aren't too many roads where you could get lost and the journey on the asphalted road through the desert starts your holiday experience on a different planet just after arrival.
Bus travel to Masirah Island – travelling in Oman with small budget, Muscat to Masirah Ferry for as little as 4.- OMR per Person
The cheapest possibility to travel from Muscat to Masirah is by using the MWSALAT long distance bus – Nr. 51. The new Bus line extends the stull rather small offer of public transportation in Oman.4
Mor info you will find on our page here.
Infrastructure
The infrastructure of the island is well established but only concentrated in Ras Hilf – the only town in the north of the Island. Here you will find some local shops and smaller supermarkets, pharmacy and other stores. If shit really hits the fan, a hospital with decent standards is available as well in Ras Hilf.
Accommodation on Masirah Island / Kitecamp Masirah
Accommodation is available for every budget and we'll be glad to help you finding the best offer and book your accommodation. You can choose between one of the local hostels which provide accommodation from around 22.- OMR per night (double room – bed only) up to the 4* Hotel Masirah Island Resort (seasonal prices between 50 and 80.- OMR – with breakfast).
If you want to stay right on the biggest lagoon and in-between of all spots, which are located in the middle/south of the Island, the Majali Beach Camp (former kite camp, which is no longer managed by Kiteboarding Oman) offers you everything you need. You will spend the night in traditional Bedouin-style huts and wake up by the sunrise which makes the mile-wide and stunning lagoon shine in all kind of colors. The Camp is located on the west side of the Island, next to the Village Sur Masirah and all spots are accessible within 20 minutes' drive from there. Contact us for booking or more information!
Accommodation / Your Holiday Itinerary
We will send you happily a best price offer for your stay on Maisrah. Often, we have some exclusive special packages for you available. We will be happy to have a look over your holiday itinerary about feasibility.
Quick and without special you can book here – good deals from booking.com, better deals and complete packages from us 😉 :
Kite spots on Masirah
At the south part of the Island you will find beaches with finest white coral sand, embedded in a permanently varying coastline. Camels are walking around (watch out while driving) and flora can be found in "wadis" (mountain vales) and oases that interrupt the rough environment.
Sur Masirah, Gshar Sheikh and Ghab are the most popular flat water spots on the island.
If you prefer some swell and rough seas, it can be found within only 15-20 minutes' drive in the eastern part of the island. The beginners waves are found in Haql. The experienced kite and wind surfers find their perfect wave in Amq, Maglah and Khasit.
Nature
The east of the island is also an important breeding area for sea turtles. Here you have the unique opportunity to observe rare species of turtles laying eggs or to get hold of a look at the freshly hatched animals and persecuted as they fight their way into the sea. Please be aware that these creatures are very shy and sensitive. Please ask for an experienced guide if you want to see turtles! It will secure a great turtle experience for you and the turtles.
Several kinds of birds have their nesting area exclusively on the island or the close neighborhood. Visitors should know that they are blessed of being in such an unspoiled environment, but understand in the same time the responsibility of behavior while visiting this place. "Take nothing but pictures, leave nothing but footprints!" Thank you!
Food and Beverage
In Ras Hilf there are several Restaurants where you can find restaurants with meals from around 1,5 to 5.- OMR. Turkish, Indian and Pakistani restaurants and countless coffee shops offer you delicious food and drinks. The cheaper the food, the more original and basic is the food and hosting experience.
A "must" for every visitor is an Omani coffee with fresh dates or a chilled drink of Lemon-Mint and a freshly squeezed mango and pineapple juice.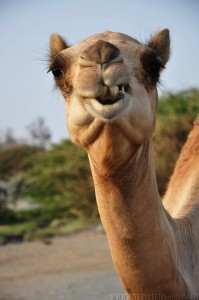 Other Activities / Kids and Family
As for now there are not too many tourist activities available. It is the price of visiting an unspoiled Island which has kept its culture without the impact of big tourism until today.
For Families with Kids it is an Island wich provides plenty of space along untouched beaches on 160km of coast line for individual family time, but no organized activities which they might know from destinatino with Family Resort-Experience with typical kids care performance and night activities.
Recommendations / Advice
Even if a Saloon car is good enough (and cheap) to access all spots on the Island, Oman is the playground for all those who want to experience the fun and potential of a 4×4. Just be aware that even a modern equipped Land cruiser is only as good as its (experienced?) driver and the surrounding physics. Not every path should be crossed even if some previous tyre prints can be found. The conditions of the tracks depend on the individual day, tides, weather and much more. Last but not least the fishermen's vehicles are way better dedicated for some extreme situations than a modern SUV even if they are old and rattly. Being stuck with a 2,5 ton vehicle in the mud without phone reception is not funny and digging out a stuck car can be an up to 3 days/5 man job with heavy machinery.
We recommend one night in Muscat during your travel back home. It gives you one extra day in case the ferry gets stopped because of too rough sea in summer season – it does not happen too often, but now and then. The extra day you could spend sightseeing in Muscat, visiting the Grand Mosque or the Muttrah Souq.
Good to know: On Masirah Island, you can't change any currencies to OMR, not even at the bank. The easiest way of getting cash is withdrawing by credit card.
More info, hotel and car bookings:
www.kite-boarding.org
info@kite-boarding.org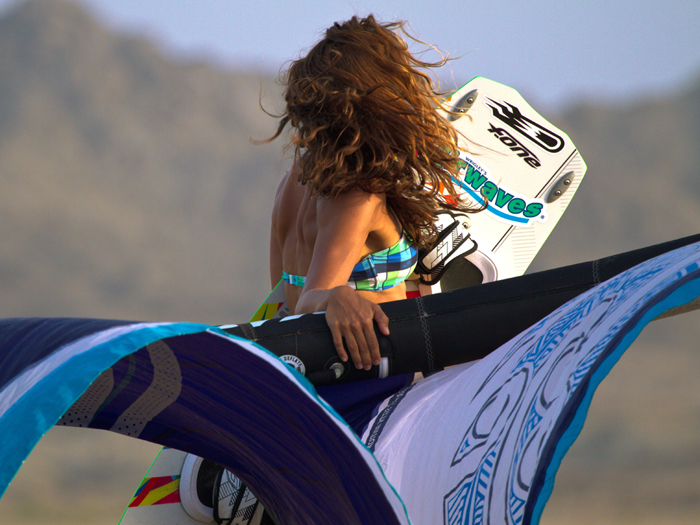 Directions from Muscat to Masirah Island by car
Masirah is an island which is located east of the Omani main land. Until now, there are no flight connections to Masirah Island. We recommend you to travel with your own hired car. This is the cheapest possibility where also your mobility on the island is ensured. The road is in good condition and you can go everywhere even without an off-road vehicle. Travelling on your own is not an issue in Oman and no special security concerns are necessary.

If you wish, we will of course organise your transfer from Muscat to Masirah Island and back. Contact us!
The route described below is the fastest way to geht to Masirah Island. There is enough traffic to not be on your own in the desert in case of emergency. However, we recommend to take some supplies on your journey as there are only few shopping possibilities.
Directions to Masirah Island, starting at "Clock Tower Roundabout" in Seeb between City Centre (shopping centre) and airport:
0 km: Turn off the roundabout in the direction of "Nizwa"/"Salalah" (Route No. 15)
115 km: At exit "Izki", turn off in the direction of "Sinaw"/"Masirah". (Route No. 33)
195 km: Turn right in the direction of "Masirah" at the Sinaw roundabout.(Route No. 32)
!Attention! The Shell petrol station in Sinaw at the roundabout is the only 24hrs petrol station for the remaining distance. It is therefore advisable to refuel, especially in the late evening and by night. By day, there is only one place halfway between Sinaw and Mahoud where you can get petrol.
394 km: Turn left at the Mahoud roundabout in the direction of "Masirah"/"Hiji"
458 km: Turn right to "Masirah". After 10 km you will have reached the "Sanah" ferry landing place.
Ferries go at irregular intervals from 6 am until 3 am in the afternoon. Both landing places – the new one behind the landing stage as well as the old one in front of the "local restaurant" are used, depending on the ferry staff. Therefore: Get in the queue, keep your eyes open and don't let yourself be pushed aside!
Ferry costs: 10.- OMR per 4×4
On the Island:
After leaving the ferry, leave the village "Hilf" towards south, always along the west coast. The sea should remain visible on your right hand side.
After 33 km there is a signboard "Sur Masirah". 300 meter after that turn right and follow the tracks though the village. Always along the lagoon right after passing the village you should see the Camp of KITEBOARDING-OMAN.
Stay on the tracks, because between it can be deep and muddy (sabkha!) off road.
GPS-Coordinates: 20°25'47.14'N ; 58°43'1.85'E
4×4 self-drivers, please note
Be careful where you drive, especially in the shore area! The "Sabkha" is often very muddy and wet. Faster than you would believe, the car is sucked and worse case, the phone out of mobile reception. Driven at the right gear, a modern 4×4 is able to handle a lot, but not everything. Maybe on another day (tides), with another car – and maybe with another driver…
You might end up like those guys: