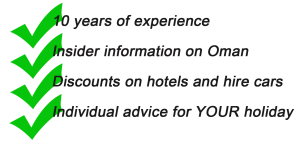 You want to experience the holidays of your lifetime? You are curious about traditional Omani culture and you want to visit places not every tourist knows?
---
Advice and discounts for your stay in Oman
We are glad to help planning your holiday! We have been in Oman for 10 years and know every corner of the beautiful Sultanate. You want to have a kiteboarding holiday with unbelievable monsoon wind? Or you just want to lay on the most beautiful beach in Oman? Do you want a guided tour through the whole country? Or explore the country on your own and only need some hints where to find the best hostels and hotels?
No matter what, we will be able to help! Book your holiday with us and get yourself discounts on hotels and hire cars!
---
Book with us and experience the holiday of your lifetime!
Book your holiday with Kiteboarding Oman! Since 2007, we know what's best in Oman. Leave us a message and we will provide you with the latest offers and information for your travel – matched to your individual holiday!
Your booking of a kite holiday (accommodatioin and kiteservices) will be rewarded with discounts in our webshop for special recommended products.