Learn to kitesurf with Kiteboarding Oman! Fascinated by the cultural mix and the fabulous conditions for our sport we decided to open the first internationally approved  kite centre in Oman. Since 2007, we offer professional kite lessons and service at the most beautiful kite spots of the Sultanate.
---
Want to book your holiday or kitesurfing lessons in Oman?
Get in touch with us! Do not hesitate to contact us for questions or booking.


---
Get to know the team of Kiteboarding Oman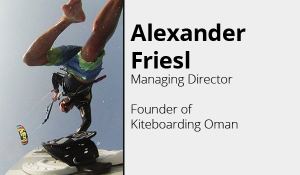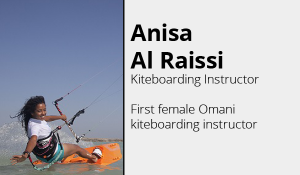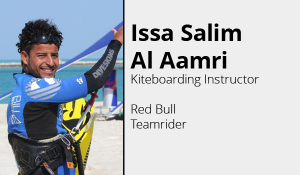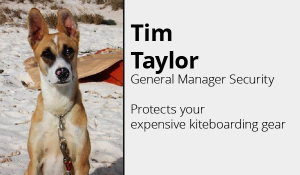 ---
Oman Experience since 2007
In 2007, the German Alexander Friesl opened in a cooperation with Oman World Tourism the first VDWS-certified kiteboarding school in Middle East. From 2010 on we have also been schooling on the beautiful island of Masirah, east of the Omani mainland. We visit other spots, such as Al Jazir, Bar al Hickman or Aseelah Beach, on request.
Certified and experienced kite instructors
From the beginning, our success was based upon internationally recognised schooling standards that guarantee an up-to-date and high-level education. To keep our standards, we are member of the German association of watersports schools (VDWS). With Issa Salim Al Aamri and Anisa Al Raissi, we successfully educated the first Omani kite instructors. By now, Issa even is Red Bull Teamrider and travels around the world for kiteboarding competitions. (Video)
Kiteboarding Oman: only best kiteboarding gear
We use latest kiting equipment, supported by RRD – Roberto Ricci Designs and FLYSURFER. Especially in light wind conditions, FLYSURFER Kites guarantee a best possible performance even at almost no wind. From 6 knots onwards, it provides a fine kiteboarding experience while a conventional kite system will not allow going onto the water.
This way, your best possible kiteboarding experience is guaranteed even with low wind conditions – the time you spend on the water will be maximized and boosts your learning curve. Our schooling material is constantly renewed and modernized. This is the only way for us to provide ultimate safety-standards for your kiteboarding experience.
We would love to welcome you at one of our water sports centres and show you a beautiful sport in a breathtaking country!
Also interesting…