Our recommended hotels in Oman for your kite holiday
Here is a brief summary of our recommended hotels for your kite holiday in the Sultanate of Oman – may it be Muscat, Masirah or Salalah. The choice of accommodations we recommend are based on location, accessibility, service and the past experience of our guests. We have special prices for various hotels, which we gladly pass on to you. Of course, we can also arrange your stay at any hotel in Oman upon your request.
Recommended Accommodations on Masirah Island
Private Villas / Accommodation on Masirah Island
Camps and Hotels on Masirah Island
Hotels recommendations for your ourney to Masirah and Sightseeing journey wihtin Oman
Private Villas / Accommodations on the Island
Private Kitevilla on Masirah Island by Kiteboarding-Oman
We are happy to introduce our LUXURY Private Kite Villa on Masrah Island.
A perfect alternative for big families and smaller groups who want to enjoy their holiday on the Island in privacy and comfort.
Two sleeping rooms, each with own bathroom give enough space and flexibility to accommodate 6-8 person.
The Villa is located close to the Masirah Island Resort with a breathtaking view over the nicely arranged garden direct into the sea. Waves are breaking endless and clean – a perfect view from your breakfast table to get in the mood for an amazing kite / windsurfing day.
Heart ist the open air BBQ-Kitchen which is nicely arranged and right next to the sun- and wind shaded dining area. Of course a standard indoor-Kitchen is available as well.
A big Majlis Hall is the center oft he bulding, facing sea view with ist big window front, is equipped with a huge flat screen. – Plenty of surface to stury the GoPro evidences in the smallest detail.
The Garden offers various comfortable and carming and partially wind protected seating areas and enough open area to dry your gear or to do small repair / maintenance jobs on the equipment.
A outdoor wash place is is available to clean bars and boards.
The 4 Star Resort with the only Bar on the Island is just 5 convinient walkin minutes away…
Villa is available from 68,75 OMR per night on self catering base.  One staff is available to assist in all matter and is happy to help or prepare food under guideance.
Best Prive Accommodation from 7.- OMR per person per night: Basic private Villa for price-consious Groups of 4-5 person
2 sleeping rooms, 2 bath rooms with western toilets, kitchen (fully equipped), dine- and living room fully furnitures with TV.
Spacious outside area with Chill-Out and BBQ-Area.
5 Beds in total.
Price for the Villa: 35.- OMR per night – water, electricity, bedsheets and towels included.
Pictures and Quotation will be send on request.
Hotels / Camps on Masiah Isand
Masirah Beach Camp by Mansoor Majali – Sleeping directly at the kite spot in Sur Masiah
The wooden huts in a simple infrastructure are right at the spot. Cooled down by natural ventilation and protected from the strong wind during monsoon. Alternatively, there are also simply designed "Deluxe-Rooms" available.
Price examples:
7 nights twin cabins with full board and Kiters' Base Pack: 22,14 OMR p.p. per night
7 nights at the camp "Deluxe Room" with full board and Kiters' Base Pack: 27,64 OMR per person per night.
We  are also happy to send you an alternative offer for your individual holiday.
4 Star Masira Island Resort – Best comfort for a small price
The 4 star hotel "Masira Island Resort" is without doubt the only comfortable accommodation on the island which meets the consistently good service and reasonable infrastructure you expect from a holiday hotel. It is the only accommodation on the island which is allowed to serve alcoholic beverages to their guests. The hotel is in the north of the island at the southern end of the city Hilf. A low-cost dinner from 1.5 OMR per person in authentic surroundings of a local restaurant is our recommendation for some variety in the evening entertainment.
Price example / our hotel special:
7 nights 4 star Twin Deluxe Room with breakfast and kiter BasePack : 26,64 OMR p . P. and night .
We are also happy to send you an alternative offer for your individual holiday.
Maan Hotel Apartment
Apart Hotel in the middle of the town hilf. In walking distance to the main supermaktets and close to different local restauratns. The within tourists most known Turkish Restaurant is just 200 meters away. The Maan Hotel is the latest local hotel on teh Island and based on that the most modern one with the most modern infrastructure.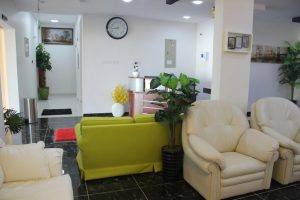 Masirah  Hotel
The Classic Hotel on the Island for Windsurfers and Kiters. Most famous within Italians and Sovenian Windsurfers.
It was the first Hotel build on the Island. Even if this is here and there noticeable, the hotel has nice rooms and the surrounded compond is a meeting point for all who come back from the beach and meet in a familier athmosthere. Das Hotel is located close to the power station which is outside of the rooms notieable by the created sound. Rooms are still quiet.
Hotels and Accommodation within Oman for your Journey from/to masirah and for your sightseeing tour
Al Maha Hotel – well situated and economically priced in Muscat
The City Hotel in Muscat Athaiba is located halfway between the airport and the old town center of Muscat "Muttrah". Thus, it is in a prime location and a cheap alternative if you want to breathe the air of the capital at the beginning or at the end of kite holiday.
Price example:
Accommodation per night in a double twin room with breakfast from 18.75 OMR per person.
Holiday Inn in Muscat Seeb – in the best venue nearby our location at Kitebeach Muscat
Very good middle class hotel near the airport with excellent access to the motorway junction towards Masirah / Nizwa and good price / performance ratio. Since recently, alcoholic beverages are available at the hotel. Moreover, the hotel is the closest venue to our spot at The Wave / Kitebeach Al Hail.
Accommodation per night in a double twin room with breakfast from 31.25 OMR per person.
Millennium Resort Hotel in Mussanah – perfect for water sport north of Muscat
The first address when it comes to water in Batina Area, north of Barka-Muscat. From the connected marina you can comfortably start the Damaniyat Islands for dive trips. Ideal location for a water sports holiday with diving and kiting.
---
Didn't find what you were looking for?
You didn't find a hotel in your holiday destination? Just get in touch, we can arrange a stay in any hotel in Oman at special bargain prices! Leave us a message and we will gladly help you to have a great holiday.
[ninja_form id=5]