Workshops for beginners and advanced riders
Book the Fit4Kiteboarding Workshop with Kiteboarding Oman! Beginners start with Fit4Kiteboarding, advanced riders enjoy our PROGRESSON Workshops!
> Duration: 6 days
> Participants: Min. 2, max. 4 per instructor
> Requirements Fit4Kiteboarding: No pre-knowledge required, minimum age 14 yrs
> Requirements PROGRESSION: Completed Kiteboarding Basic Course – safe handling of a kite, waterstart, riding downwind
> Price: 301,- OMR per person
> Goal Fit4Kiteboarding: VDWS-Level 5 guaranteed
> Goal PROGRESSION: Improvement of riding, technical skills, theoretical knowledge,basic jumps, riding upwind…
> Starting always on Sunday, on request between 7th of May and 10th of September 2017
More information and booking: info@kiteboarding-oman.com
Want to stay up to date about our offers? Like us on Facebook!
Event Flyer FIT 4 KITE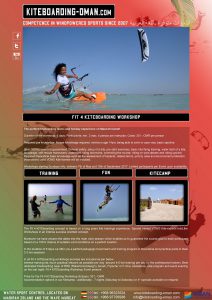 Event Flyer PROGRESSION Workshop